Can you believe that Scarlett has already celebrated her half birthday? I know I look at her and think "wow, in 6 more months my baby will be one!" We have already started her 1st birthday party including the theme, pictures, outfits, and decor! In some ways I cannot wait for that day to arrive and in others I can hold off a little longer.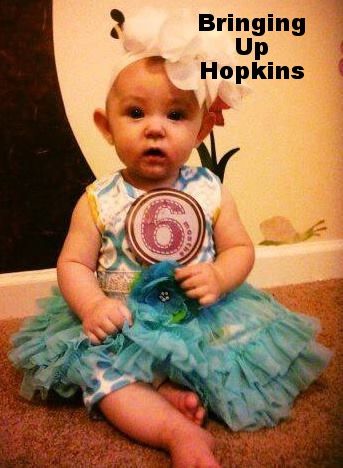 Scarlett has started crawling everywhere and boy does she keep us on our toes. One of her favorite places to crawl to is the dog bowls, so we have to keep them on the counter until Bella wants water or food. She calls me "mama" and her dad "dada" and at night her daddy has to walk her around the living room while she cuddles into his chest. Scarlett has come to expect it every night.
One thing that cracks me up is that she has not really grown much hair, but instead has a baby mullet. The back of her hair is past her shoulders while the hair in the front and sides is still short. I cannot wait until I can start putting her in piggie tails!